Upcoming LWV Klamath County meetings and events:
There are many activities around the state we want to pay attention to. The 100th birthday of the LWVUS is this year. What do we want to do locally to get our community to be aware of this? We'll discuss all of this at our next meeting on January 17 . Please come and share your ideas. Every one has a voice at these meetings. Alex Spenser will be there to share her thoughts on how to encourage dialog.
Our February 21 meeting will see Aaron Hartman, Director of Community Corrections in Klamath County share his thoughts about justice issues.
We will be discussing Hard Rock Mining report and consensus questions on March 21.
Recent LWV Klamath County Activities:
jordan cove lng pipeline project
LWV Klamath County President Leslie Lowe, with the support of Diane Eastman-Shockey, participated in a public hearing concerning the Jordan Cove Liquid natural Gas (LNG) Pipeline Project on Monday January 7, 2019. Leslie spoke against the project and presented written comments.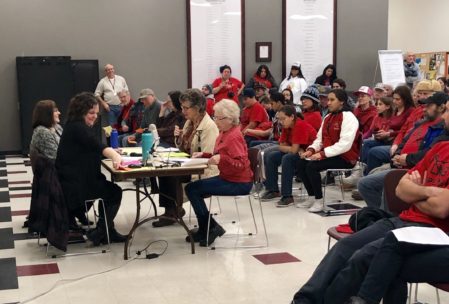 The LWV Oregon also submitted a lengthy position paper on the Jordan Cove LNG project at a prior hearing. This was done on behalf of four local LWV chapters, including Klamath County.
LWV Klamath County, General meeting, May, 2018
If you were unable to attend our Annual meeting, here is a link to our LWV Klamath Annual Meeting Presentation on Immigration issues in Klamath County on May 17, 2018. We invited Immigration Attorney in Klamath, Neal Metler, and Miss Cinco de Mayo Klamath County 2018, Victoria Gaeta. The full presentation is about 49 minutes long.

https://www.youtube.com/watch?v=rHlDr7t7Fds

We were able to record this thanks to Chris Marshall, who also has a radio show at OIT and teaches at KCC. We were able to share this with you thanks to Sarah Andrews, LWVOR office coordinator. It takes a community of people to keep LWV alive and well.
Updates on recent and upcoming activities from LWV Oregon:
Voter Service:
Many thanks to all volunteers for the hard work on Voter Service during the election season!
Action:
The Action Committee has completed its priorities for the next legislative session.

Our series of 16 Redistricting Forums throughout the state has been a great success. A total of nearly 600 people attended! More forums will be scheduled for January and February. The draft constitutional amendment completed by the Redistricting Matters Coalition will be submitted to Legislative Counsel for putting into bill form for the next legislative session.


League Management:
The LWVOR Board approved the Hard Rock Mining report and consensus questions. The report must yet go through final editing, formatting and printing. The deadline for consensus reports is May 1.

Local Leagues will be doing Program Planning in January or February. The state Board must recommend or not any proposals at its March meeting for the May 17-19 Convention in Ashland.

Nominating Committees in all Leagues will begin their work actively recruiting leaders. It's an advantage to have a local League member on the LWVOR Board.

Honoring her work for decades for the LWV, Common Cause and AAUW, Common Cause of Oregon has created a Kappy Eaton Legislative Fellowship/Internship focused on legislative work during the upcoming session. If you know a college student seeking to strengthen leadership and organizing skills, then please contact CC Oregon for more information.

What Would Alice Paul Do? Podcast: Episode 22: 2018 Midterm Recap and Reflection